Green Onions were a surprising hit at the weekend's farmers' market. I knew I liked them, yet was completely surprised at how well they sold during our first market of the season. I figured, why not share a few simple facts and recipes about this spring produce.
What are Green Onions?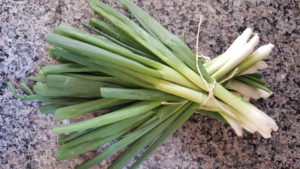 Green Onions, also known as Spring Onions or Scallions, are the result of picking onions from the ground before their bulbs have formed. They can come from varieties, ranging from those with minute or giant bulbs. The entire herb can be eaten cooked or raw. Personally, I prefer them best sauteed with a little butter and fresh cracked pepper. However, this morning, my other half created a tasty meal I would have never considered.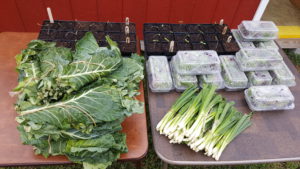 Cooking with Scallions
As I mentioned, there were a few Spring Onions leftover from this weekend's market. I figured I would saute them as noted above, but what we had for breakfast this morning was even better. It was simple, delicious, and used all of the farm fresh ingredients we had on hand. Here's the recipe for Scallion Omelets:
Homemade Sausage (or any sausage you enjoy)
Three Eggs
Two Slices of American Cheese
One Spring Onion
Black Bean Salsa (optional)
Hardware:
One Frying Pan
One Spatula
One Whisk or Fork
Two Small Bowls
Directions:
Break up the sausage and cook it fully over medium heat. While they are cooking, slice the green onion and set it aside. You can saute some with your sausage, if you like.
Next, remove and reserve half of the sausage fat, keeping the other half in the frying pan. Return the pan to the stove over medium heat. Then, whisk three eggs together in a small bowl. Add the eggs to the pan and allow them to cook completely. Do not over cook.
As soon as the eggs are done, add the sausage, some green onions, and the American cheese to one half of the egg. Be sure the cheese is on top of the ingredients and fold the egg over to create an omelet. Slide the omelet out of the pan and top with more green onions and black bean salsa, if desired. Enjoy!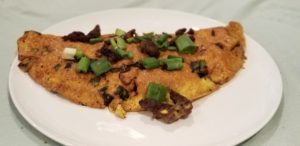 Did you try this recipe? Let us know what you thought in the comments below!