The weather is warming up and we're right in the middle of planting season. If you're like me, your garden will have tons of tomatoes, due to a bit of overexcitement at the first signs of spring. It's a good idea to go ahead and make plans for all those garden treasures, like using them in this tasty classic Pico de Gallo recipe. This recipe is quick and easy to make, and only needs a handful of ingredients.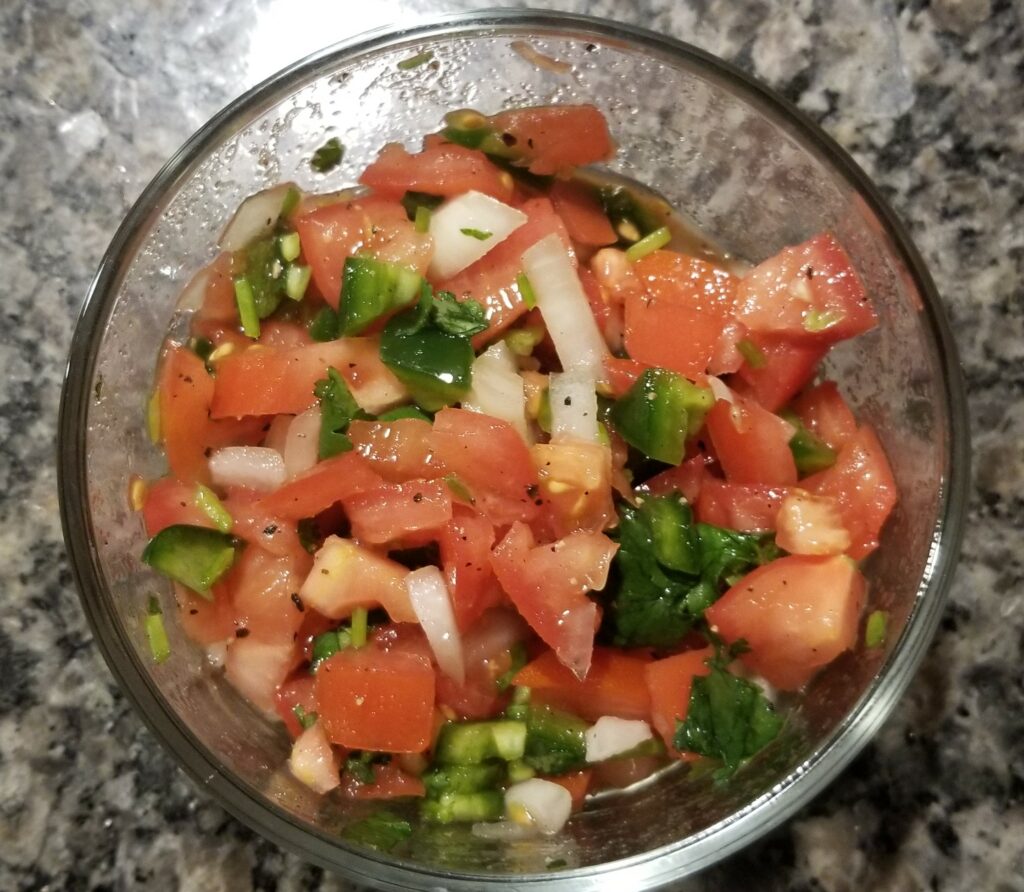 What is Pico de Gallo
Pico de Gallo or Salsa Fresca is a type of salsa commonly used in Mexican Cuisine. Traditionally, it is served alongside tortilla chips, used in guacamole and burritos, mixed into rice and scrambled eggs, or used to top tacos, quesadillas, and more. There really is no limit to how you can use this fresh, low-calorie salsa. And of course, my favorite feature is its versatility.
Did You Know: Pico de Gallo means "beak of the rooster" in Spanish? It is believed that this name comes from the way Pico was originally eaten: by pinching the salsa between the thumb and finger, resembling the shape of a rooster's beak.

Source: Twisted Taco. 2021.
Tweaking the Recipe
An Authentic Pico de Gallo recipe only calls for six ingredients: tomatoes, onions, serrano peppers, salt, lime juice, and cilantro. However, Pico can be slightly altered to include in-season fruits and veggies found in your garden or from your local farmers' market, to keep things interesting. Those slight alterations can really get your tastebuds going.
Tip: For a spin on this classic Pico de Gallo recipe try using a habanero instead of jalapeño for added spice, mango for sweetness, red onion for milder onion flavor and pungency, or peach and avocado instead of tomatoes for reduced acidity.
Let's Get Started
Ingredients
4 Roma Tomatoes 
1 White Onion 
4 – 5 Sprigs Cilantro 
1 Fresh Jalapeno 
1 tsp. Salt 
1 tsp. Pepper (optional)
2 Limes (or 1/4 Cup Lime Juice) 
Hardware
1 Covered Dish for mixing and Storing
1 Knife for cutting veggies 
1 Spoon for mixing (or shake in covered dish instead)
Let's Cook!
Prep all ingredients by dicing the tomatoes, chopping the onion and jalapeño, and rough chopping the cilantro. Also, be sure to wash and roll your limes.
Add all veggies and seasonings to the covered dish.
Squeeze the lime juice on top of the added ingredients.
Cover the dish and shake to combine (a spoon can be used to mix instead).
Enjoy!
Tip: This recipe can be stored for up to four days in the refrigerator or you can use traditional canning methods to store for 12 to 18 months.
Thank You
A special thank you to the R-MC CAB for sponsoring this video. And as always, I would like to thank our Official Foodies for helping to empower people through food and making articles like this one possible.