There were truly only two things I did to lose weight. I focused on eating high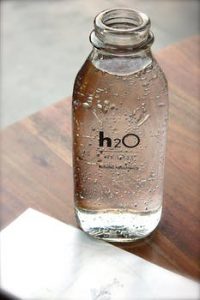 fiber foods and drinking water. The latter of which seems to always spark a ton of conversation. Folks always ask:
How much water should you drink in a day
How much water to drink to lose weight
What to do if they don't like drinking water
The conversation typically ends with them realizing drinking water to lose weight isn't hard at all and feeling empowered to achieve their goals. This is perfect, as hydration is key not only to weight loss, but survival.
Importance of drinking water
Water is the fuel of life. I don't mean that figuratively.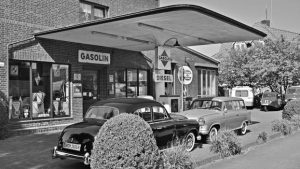 The reason doctors and physical trainers are always trying to get us to drink water is so our body will function properly. As I'm sure you know, water makes up most of our bodies. It hydrates our brain and allows it to think. It filters toxins out of our bodies to keep us healthy. And my personal favorite, water keeps us feeling awake and alert better than any caffeinated drink ever could
Think of it this way. You wouldn't attempt to run your car without the proper fuel, and you shouldn't do the same thing with your body But what do you do if you hate drinking water?
What to do if you don't like drinking water
My cousins hate water. As a kid, I couldn't understand why, as it was typically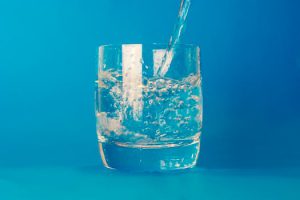 my drink of choice. Even today, nothing quenches my thirst like a refreshing glass of room temperature water. My cousins feel the exact opposite way about it. After trying the water they were used to drinking, I understood.
I'm pretty used to drinking artisan well water. It's what I grew up with and assumed most people had. That was until i started spending more time at my cousins' house as a kid after school. The water there was (no offense) disgusting. It was thick and had a terrible aftertaste that I can't remember anyone in my family being able to handle.
Instead of drinking water, we mostly drank juices and sodas at my cousin's house. It was the early 90s and bottled water hadn't quite caught on yet. It was this way most places I went with poor tasting water. and is one of the main reasons I find folks dislike water today. The quality is poor.
Experiencing consistent poor water quality can cause you to associate the fuel of life with a terrible tasting liquid. This is a shame, as we absolutely need water to survive. However, there are alternatives.
How much water should you drink in a day
You've likely heard you should drink eight glasses or 64 ounces of water a day. This is not true. In fact it's simply a guideline, to get folks to drink more water. Though I strongly suggest you drink at least two eight ounce glasses of water a day, you don't have to drink water to stay properly hydrated.
No, this doesn't mean you can stop drinking water all together.
What it does mean, is you can drink less water IF you make sure to hydrate
with other substances. These include flavored waters, herbal teas (preferably unsweetened), and even coffee, and tea in moderation (no more than two cups a day). These drinks are made of water and will hydrate you well, if you consume enough of them throughout the day.
How much is enough?
That depends on your age, weight, height,your level of activity, any medications you take, and a host of other potential factors. There's no need to stress over the perfect amount of water in coordination with all these things, as there is a much simpler way to determine your proper water intake.
Guess what it is….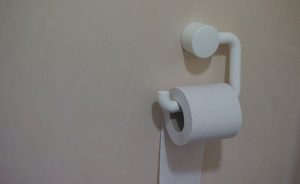 Your urine. If your urine is dark yellow, you need to increase your decaffeinated, unsweetened liquid intake (i.e. water, flavored water, herbal teas, etc.). If your urine is pale yellow or clear, your drinking enough water or other liquids above.
It's that simple. 
So is drinking water help to lose weight.
How much water to drink to lose weight
As I said earlier, water helps our bodies to filter out toxins. These toxins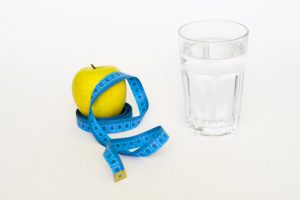 cause us to retain water weight. By hydrating properly, we keep these toxins and thus the water weight off.
Like drinking water, in general, there is no magic amount you need to drink in order to lose weight. However, making sure you're properly hydrated each day, can keep 10 to 15 pounds off at all times.
Have you tried drinking water to lose weight? What about herbal teas and flavored waters? Comment below on your experience.